Thailand boasts countless jungle hideaways and nature retreats to escape busy weekends in Bangkok and really relax in nature. As a long term expat in Thailand (the four year mark is coming up) I am always on the lookout to get out of town and visit the best hideaways, so when I heard about a small eco- lodge nestled in the foothills of Doi Inthanon (Thailand's highest mountain) I had to check it out. What I found was a unique sanctuary situated next to a river and elephant camp. A social enterprise promoting sustainable tourism and tackling the delicate issue of sex trafficking, and to top it all off this amazing place was founded by a woman who's a role model for all expats in Thailand!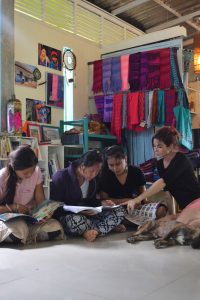 The Chai Lai Orchid sits within an untamed, bamboo forest, next to the Mae Wang river in the northern province of Chiang Mai. It is accessible only by a suspended footbridge and the entrance doubles as an elephant viewing outpost. The Chai Lai Orchid (chai lai means beautiful in Thai) offers visitors a choice of comfortable jungle bungalows with patios overlooking the river, and a range of activities including treks to waterfalls and hill tribes, bamboo rafting and bathing with elephants. It's also a great place to put your feet up, sip on a coconut and catch up on your reading — occasionally pausing to see an elephant stroll past! The riverside cafe offers visitors some amazing Thai and Burmese fusion dishes – I recommend the Shan tea leaf salad. It truly is a beautiful place but what makes it even more special is the reason it exists in the first place.
The Chai Lai Orchid resort is a socially aware enterprise (a business seeking to improve human and environmental well being rather than maximising profits for shareholders) with all its profits going straight into its non-profit — Daughter's Rising.
Daughter's Rising was founded by American expat Alexa Pham in 2012 to prevent sex trafficking by empowering at-risk girls through education, training programs, and scholarships. In 2011 Alexa was visiting Chiang Mai when her translator stumbled into a sale of a 16 year old Burmese girl, Naing, to a 60 something year European man. Alexa immediately stepped in and managed to stop the initial sale going trough (Naing was being sold off by her mother for just $2,000 and a motorbike), but as she wasn't yet a 'victim' no NGO's could help her. No one knows what happened to young Naing but Alexa realised that what Thailand was lacking was safe shelters for women at risk of human trafficking. The next year The Chai Lai Orchid opened as a training facility to offer at risk women training and experience in the hospitality sector.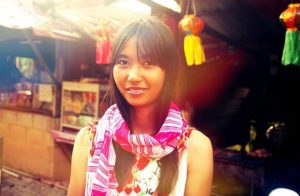 All the staff are local hill tribe women (commonly one of the most at risk areas for women due to lack of documentation and opportunities in the remote villages) who are learning essential business and hospitality skills, and are all in the process of learning English or Thai language. The staff are also involved in local outreach and awareness campaigns for a range of topics from basic sex education and human rights to empowerment workshops for adolescent girls.
The issue of human trafficking has long been present in Thailand but 2014 has been a particularly embarrassing year for Thais. In 2014 the Guardian newspaper revealed the appalling conditions people are living under on Thai fishing boats. Most of the workers were classed as 'modern day slaves' being bought, sold and abused by their captors.
The slave labour was mostly being used to fish for prawns (some ended up in European supermarkets) and after the newspapers revelation Thailand's exports were hit badly. These slave boats were also found to be suppliers of Thailand conglomerate Charoen Pokphand CP Foods (who supply most of the products in 7–11's). Shortly after the prawn slave industry was revealed The US state department downgraded Thailand to tier 3, the lowest level of the Trafficking in Persons (TiP) report. Estimates of tens of thousands of migrants from neighbouring countries are being trafficked to or through Thailand every year.
While these alarming reports are shocking, sadly none of it is new for people residing in Thailand. It is likely all of us expats have seen glimpses of the human trafficking problem, but many of us feel powerless to help. Heading to Silom on a weekend night only helps to show how big the prostitution industry is in Thailand (one of the biggest 'employers' of slave labour), and Pattaya is a shining beacon for both sexpats and traffickers — few tourists stop to ask the girls where they are from and why they are there.
But what can you do to help?
– Say something! If you feel something is not right say something or call the tourist police. As a foreign expat we have the power to raise our voices with very few repercussions. Thai's might be reluctant to say something but the police almost always listen to foreigners concerns.
– Tell friends who visit you in Thailand to be aware of the human trafficking trade. Creating awareness is one of the most important aspects to reducing trafficking. Whilst expats and tourists have little to worry about themselves, they should think about where they are spending their money.
– Don't visit go go bars or brothels. I doubt many readers regularly visit these places but it is worth discussing your concerns with male friends.
– Read more about the subject. Yes the issue of Human trafficking is a dark, depressing one but it is one that we cannot afford to ignore. Kevin Bales gave an amazing Ted talk on 'how to combat modern slavery'. It is possible to eradicate modern day slavery but to do that we must acknowledge it exists and take a stand against it!
–Email your embassy or local representative. Raise your concerns with them or create a petition. Raise your voice!
– Find organisations that help. Daughters Rising, Amnesty International, Urban Light, IOM, The UN and the Royal Thai police are all trying to address this issue in Thailand. Internationally www.freetheslaves.net is a great organisation with information, ideas and reports.
– Support local organisations. Offer English classes, workshops, skills trainings or donate clothes, medicine, funds or other needed items. You could even start your own organisation….
Daughter's Rising is not the only organisation attempting to prevent sex trafficking in Thailand but they are tackling the issue at the roots. Daughter's Rising visits local villages and hopes that through education and awareness girls can gain confidence and control over their lives. Teach her about her rights, offer her skills and training, let her choose her future. Through empowerment and "access to education she can pursue her dreams".
For more information about Daughters Rising please check out their website: www.daughtersrising.org. If you are interested in volunteering they are always in need of doctors, nurses or long stay English teaching volunteers and offer free accommodation in exchange for your time and expertise. To find out more about Chai Lai Orchid or book a room see: www.chailaiorchid.com