Thailand is known for festivals – there seems to be a different festival every month – but the two most well known festivals are Songkran (April) and Loy Kratong (November). These festivals are celebrated by everyone, and the country usually comes to a standstill for a couple of days, so holidaymakers be warned; If you are here for either, then prepare to take part and enjoy the festivities.
Loy Kratong falls on a full moon every year (this year Loy Kratong is on the 3rd and 4th of November) and involves floating a small bamboo leaf 'kratong' on a lake or river. The kratong is filled with flowers, incense, a candle, and sometimes a coin. As the kratong floats away, it will take your bad luck and worries with it. This two day celebration is supplemented with fireworks and parades.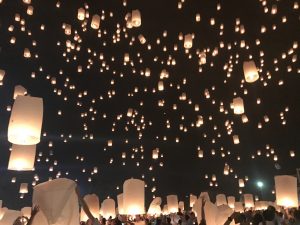 In the North, Chiang Mai celebrates Loy Kratong but they also have a second celebration, which is an even more spectacular event… The festival of lights.
The Yi (or Yee) Peng festival occurs a few days after Loy Kratong and involves lighting a paper sky lantern and slowly allowing it to float away. Again, your bad luck and misfortunes float away, and the stronger the lantern flies the better your luck will be! Commonly Thai's will place their address in the lantern, so if anyone finds it later, they can claim some money from the sender – spreading the good fortune!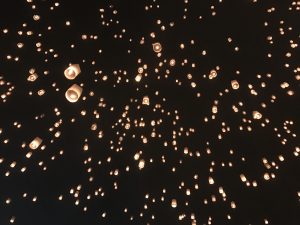 Every year Mae Jo University organizes a mass release of sky lanterns that is preceded by a prayer from Buddhist monks. It is truly an amazing sight when thousands of lanterns rise at once – like the sky is alight with stars. Even if you don't make it to Mae Jo, any rooftop in Chiang Mai will give you a good view of this once in a lifetime event!
I went to the lantern festival back in 2012 and it was a magical experience. Back then it was a free event, and there was usually enough space for everyone, although I remember the parking area and exit being insanely crowded after the event. These days the event is ticketed and regulated so you need to book in advance. If you don't have a ticket yet – get one immediately – the official website says the event is sold out. With a ticket, you have a guaranteed seat and transport and lanterns are arranged for you. Honestly, I am not sure where to get tickets, as an online search pulled up nothing, but I'm sure if you ask at any hotel or travel agent in Chiang Mai they will be able to pull some strings. You can also head to the riverside as many people release lanterns and Loy Kratongs at the Mae Ping river.
Alternatively, you can join the Anantara for their 'Enchanting Loy Kratong' event which includes lanterns, dinner, a dance performance and Kratong and lanterns for guests to release. The Dhara Dhevi also has a Loy Kratong promotion which includes two nights in one of their deluxe villas and a whole host of other added extras.
For more amazing events and festivals occurring in Chiang Mai and Northern Thailand, consider buying a copy of Luxurious Chiang Mai, or follow Luxury Chiang Mai on Facebook and Instagram for updates and information about what's happening in Chiang Mai!