For three years in a row, David's Kitchen has been voted as the Best Restaurant in Thailand and The Best in Asia by Tripadvisor, and one of the best in Thailand by Thai Tatler Magazine. In a country that loves to eat, and with thousands of luxury hotels, restaurants, and well-known chains countrywide, how can one man (and his wife) start a restaurant and become the top rated restaurant in the country?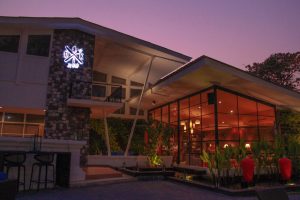 A visit to David's Kitchen (now located on Bumrungrad Road in Chiang Mai) will give you some clues into how this couple, and Chef O, have become not only the best known and most popular restaurant but also an establishment that guests go back to time and again.
David's Kitchen is run just as any other luxury establishment is – with the customer being the main priority. From arrival to departure, customers are treated with respect and attention from the incredibly friendly staff. However the restaurant still feels homely as smiles are more common than bows, and the waiters are quick to establish a rapport with customers, asking questions and suggesting dishes on the menu. They establish themselves as real people and see customers in the same way, creating a friendly dialogue and a relaxing atmosphere. It seems their catchphrase 'You will arrive at David's Kitchen as hungry as a stranger. You leave as satisfied as a family friend' is working.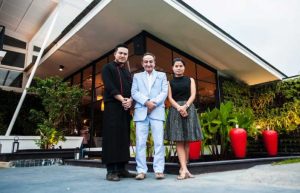 Then there is the food. Chef O and his kitchen team goes above and beyond to provide delicious, interesting and diverse dishes, blending world cuisines with a Thai flavour. The set dinner menu changes regularly to cater for local Chiang Mai residents who frequent David's Kitchen and with 4 courses for a reasonable 1,450 Baht per person, (around USD$40 or £35), it's hard not to go there every day on your holiday. After all, there are few places where you can visit the best restaurant in the city and not worry about the price. But then Chiang Mai is full of affordable luxury spots and ideal for honeymooners or travellers looking to spoil themselves.
As well as food, David's Kitchen has a range of the finest wines, spirits and cocktails to accompany your meal. In early 2017 the Red Room was opened adjacent to the restaurant for pre- or post-dinner drinks in an exclusive deep red clubroom. For wine enthusiasts, the wine cellar has some of the world's best wines waiting to be sampled, as well as champagne for special occasions. The Red Room also has a separate menu of delectable tapas or cheese boards, and even some outstanding homemade desserts to go alongside an after dinner digestif. 
David, of course, is key to David's Kitchen, and when in town he is always on the dinner floor greeting guests and developing his own bond with customers and ensuring they are happy in his restaurant. Without his calm and reserved manner, and patience as he greets each customer individually, David's Kitchen may not have come as far as it has today.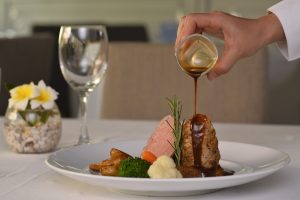 Don't forget to book in advance as the restaurant is busy all year round, especially around holidays (and Thailand has a lot of holidays, events and festivals). It's wise to book a table asap and let the excitement build up, and if needed the reservation team can arrange a car to collect you from your hotel. David's Kitchen is open daily from 17:00 – 00:00 except for Sundays (in case travellers wish to experience the incredible Sunday Night Walking Street).
A visit to David's Kitchen will leave you wanting to go back again or at the very least never wanting to go home – clear your evening because once you arrive you will want to savor the food, wine and desserts all night long.
(+66) 091 068 1744