Expanding from a quaint historical property into the countrywide luxury 137 Pillars brand, 137 Pillars House now has a sister hotel in Bangkok (with a stunning rooftop), and a Phuket 137 Pillars property will be opening sometime in 2019….. 
In a leafy suburb, just over the river from the old walled city of Chiang Mai, stands the 137 Pillars House. The original teak house was built in the late 1800's and served for many years at the Northern office of the East Borneo Trading Company's headquarters. After the dissolution of the extremely successful company, and Britain's withdrawal from colonisation of the East, The teak house laid unused and hidden by the dense tropical grounds until Bangkok-born Panida Wongphanlert discovered the property in 2002. From there the Harvard trained architect went through the process of first getting permission to be on the land and then exploring the property and grounds filled with the mature, old trees. While the house was not the vacation home that Wongphanlert was looking for, once she delved deeper into the history of the house, she felt compelled to share this piece of the past with the world. With the assistance of architects and local conservationists, the 137 Pillars House was restored to its original historical standards and the surroundings developed into a 5 star, exquisitely designed hotel, complete with 30 luxury suites, two restaurants, a swimming pool, library, a quaint bar and high-end spa.
To read the full interview with 137 Pillars Christopher E. Stafford, check out the International Luxury Hotel Associations Magazine or click here.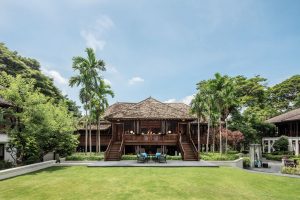 After visiting the 137 Pillars House in Chiang Mai, one of my new goals in life is to stay at all the 137 Pillars hotels…….It's time to write a wishlist of places I desire to visit!