Chiang Mai has always been a cultural gem of a city, but in recent years the small sister city of Bangkok has been steadily flourishing into a cosmopolitan wonderland. I have always loved visiting Chiang Mai, and in the six years I've known the city so much has changed that I no longer recognise some areas.
In 2011 Nimmanhaemin Road only had a few cafes, shops and the roads were mostly traffic free, with only a few vehicles speeding down Suthep or Huay Kaew Road. However Chiang Mai has experienced rapid growth, as Bangkokians escaped the floods and stress for the more peaceful Northern Capital, and investment from China and Singapore poured in. The amount of 5 star hotels has tripled, with more being completed in 2017. The amount of tourists are increasing, and the McDonalds, Starbucks and other chains are slowly creeping in despite there still being no public transportation system in the city. Amazingly throughout the changes, Chiang Mai has retained its character and old charm.
Here are a few amazing glimpses as to what Chiang Mai used to look like……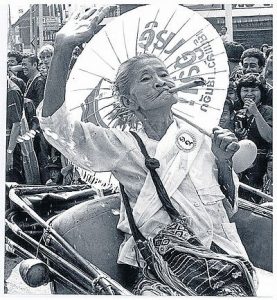 If you have any to add please email them to me! Photos found at BKK Post and Seattle99 wordpress. There is also an ongoing thread on Teakdoor forum for all Thailand pictures of the past and some amazing photos of BKK including the billboards below.