Why Honeymoon Thailand? When most people imagine their honeymoon they dream of white sandy beaches, crystal blue water and a luxurious hotel, complete with five star luxury, bathtubs and a screen door opening straight onto a beach. A chic city break with culture, fine dining and sunset cocktails overlooking city skylines. Others search for adventure, a trip of a lifetime to remember forever and strengthen the bond with their partner. Sadly people are put off by the expense of such a fantastic honeymoon, especially straight after the wedding. But what if you could have it all, and afford to to enjoy it to it's full extent? All of these honeymoons exist in one place, and it's called Thailand.
Why Honeymoon Thailand?
Since the early 70's Thailand has been a holiday favourite for everyone. However one area of Thailand's tourism has developed the in style, and that has been the luxury sector. Since the country already excels at providing wonderful scenery and amazing adventures, it was natural that eventually they would started to cater for jet setters and honeymooners. In a country full of exotic flowers, stunning beaches and friendly people, Thailand is by far the best place to escape into post marital bliss!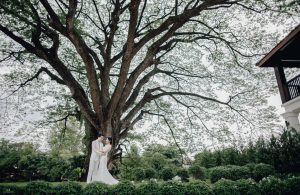 The following are 7 reasons to consider Thailand for your honeymoon above anywhere else, after all Thailand offers visitors so much variety in one country. You won't find all of this anywhere else!
Luxury Resorts
Thailand offers some of the most amazing hotels and resorts in the world. Hotels offer outstanding service as well as attention to detail in all aspects of your holiday; from elaborately carved fruit to memorable trips curated to visit elephants in their native jungle. Staying at one of Thailand's many resorts (be it at the beach, on an island or hidden away in the jungle) is not only a once in a lifetime experience but it also won't break the bank. Often the costs of luxury suites in Thailand is a fraction of the price of many other honeymoon locations, and Chiang Mai is one of the most popular and affordable cities in Asia, which means you can stay on your honeymoon for even longer!
 Adventure
Thailand offers everything a traveller could want. Bangkok is a metropolis vibrating with energy, creativity and style. Spend your days shopping and lounging in 5 star hotels along the river. The north of Thailand offers culture, heritage and golden temples, while the south offers miles and miles of deserted beaches. Koh Samui is one of the prettiest islands in Asia, with golden sandy beaches and stunning sea views. If you want relaxation you can find it, but if you want adventure, trekking and excitement then the jungles of South-east Asia await intrepid explorers. Honeymoon Thailand style is an adventure in itself.
Elephants and Nature
Thailand is home to many elephant sanctuaries that do their best to care for elephants and let them roam in their natural environment. If you haven't already met an elephant then perhaps it is time as husband and wife to make their acquaintance, or even ride on one into the sunset. Newly wed photos atop an elephant offer some of the most unique memories you could find on holiday – Let an elephant take you through the dense jungles of south-east Asia together! As well as the jungle, Thailand has an array of national parks, and some of them are made up of islands. Taking a boat trip around those pristine, preserved islands is the perfect way to escape the heat of midday and take in the greenery and sea air. Sunsets in Thailand are also spectacular, whether the sun is setting over the mountains of Chiang Mai province, or over the Andaman sea, few places can compete with the beauty of Thailand scenery.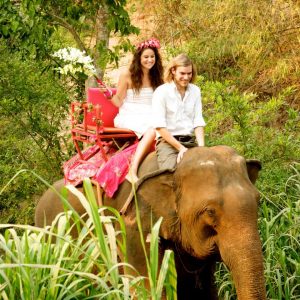 Pampering Packages
No honeymoon is complete without indulging in a bit of pampering, and Thailand is home to the Thai massage as well as many other relaxing treatments. Many up-scale spas offer two to four hour packages for couples where they spend the entire time pampering you! Hot oil treatments, detoxifying scrubs, herbal saunas or even the four hand massage – When it comes to relaxation Thailand has you covered. A one hour Thai massage can cost as little as $10 and you are never far from a spa in Thailand. The high end spas are a little more expensive but great value and a fraction of western prices for the same standard.
Feel Welcomed
Thailand is often referred to as the 'land of smiles' and it's true, as soon as you touch down in Thailand you will see their famous smiles and feel their hospitality. You will often be greeted with the traditional 'wai' a gesture of respect and goodwill. They are genuinely happy to have tourists visit their beautiful country and even happier when those tourists are newly weds. Thai's love love and so when they see two people deeply in love they can't help but come up to you with a smile and tell you how wonderful you look together. Honeymoon Thailand style can make your love stronger!
Food
All aspects of your honeymoon should be memorable and Thai food will not let you down. Imagine colourful soups, delicious flavours, fresh fish and beautiful desserts. Try Tom Yum Gung a spicy, flavourful soup with prawns, or Green Curry, a sweet curry packed with vegetables and herbs. Crispy spring rolls and steamed jasmine rice accompany any honeymoon feast, and end the meal with fresh watermelon cocktails and a toast to your love. Seafood buffets, Italian, Indian and Israeli restaurants are all over or be adventurous and try the fast, cheap street stalls. Finally no trip to Thailand would be complete without trying mango and sticky rice – great for breakfast or as a dessert!
Ease of travel
Your honeymoon Thailand should be relaxing and about enjoying each others company. You shouldn't need to stress, plan too much or worry about travel and safety. For this reason Thailand tops the polls for ease of travel. Bangkok's Suvarnabhumi airport is a major hub, with flights going around the world. All signs are in English and tourist attractions easy to get to from the airport. Travelling within Thailand is easy and comfortable (you can fly to the beach, take the train, a bus or even a private car) and crime is low, so you can focus on fully enjoying the country and your honeymoon!
These are just seven reasons to honeymoon Thailand. So much more awaits when you arrive so book your flight, choose your hotel and head to bliss!
If you need help planning your trip then feel free to contact us via Facebook for luxury travel tips, or grab a copy of Luxurious Chiang Mai for the perfect honeymoon in Northern Thailand.