It's not everyday that you get to visit a chocolate factory, especially one in Chiang Mai. But believe it or not, there is one steadily growing right next to Suan Dok temple.
Siamaya is Chiang Mai's latest business addition, and a welcome one to all chocolate lovers. They are a fast growing chocolate producer, using locally grown cocoa beans from Chiang Mai province and hand crafting the chocolate bars right inside the city. On a cold evening in January I went to their chocolate factory, in part expecting to find something akin to Willy Wonka's factory, a miniature cocoa farm within the townhouse perhaps? Or a crazy team of little orange workers? Of course I didn't find anything purple, orange or crazy. Instead I found a modest room with Siamaya's enthusiastic CEO Neil, happy to talk me through the process of creating chocolate from bean to bar and (as to be expected) all the hard work in between.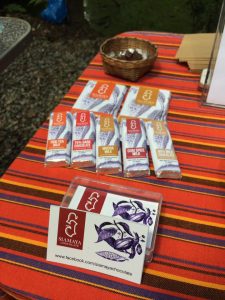 A little over a year ago Neil discovered an agricultural professor from Mae Jo University who had been working with regional farmers to cultivate a high quality hybrid cocoa bean suitable for growing on the terrain of Chiang Mai province. Don't confuse hybrid seeds with GMO, hybrids are natural and the result of cross-pollination between two slightly different plant varieties over 6-8 generations. This creates a plant with slightly different features, and in the case of the cocoa bean, one better able to grow in sub-tropical climates. After discovering that cocoa beans were available right here in Chiang Mai, Neil couldn't pass up the opportunity to turn the beans into Chiang Mai's own local chocolate.
After spending a few months researching local companies around the world and how they process bean to bar, Neil bought the essential cocoa processing equipment and set to work in his new chocolate factory 'testing' chocolate recipes and perfecting the taste until Siamaya chocolate bars were ready to hit Chiang Mai. All the chocolate bars are handcrafted in their Suan Dok chocolate factory and everything is sourced locally – meaning nothing but natural ingredients. Even the attractive packaging has been designed by local artists. Siamaya has also tried to keep the flavours local, with a milk mocha (a nod towards the coffee culture in Chiang Mai), Thai tea or Chai tea varieties and even a dark chocolate with Chili (which has a nice after kick to it). There is also the traditional milk and 75% or 85% dark chocolate bar. At the moment there are two sizes: 75g for 160 Baht or a smaller 40g bar selling for 60 Baht. Naturally I bought each of the small bar flavours to try them out, and mocha was my favourite, but don't let that stop you trying the others.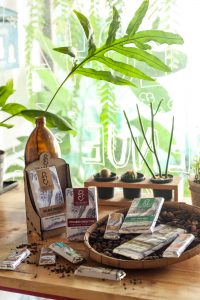 At the time of writing Siamaya is producing around 200 bars a week and selling out almost immediately, so it might be some time before you manage to get hold of a bar or two of Siamaya chocolate. You can find Siamaya at the Saturday Nana Jungle market, any Nana Bakery shop, Food4Thought, Meerkatto and Hohm cafe, or buy online via Paleo Robbie.
I expect you will soon see Siamaya chocolate bars around town, and if you do try one and support a local company. They also make great gifts!
For more information visit their website or contact them via Facebook or telephone:  +66 (0) 622 048 220