Chiang Mai hotels come in all shapes and sizes: from super cheap (80 Baht) private hostel rooms that feel like you are sleeping in a box to deluxe villas with private plunge pools overlooking rice fields (starting at 30,000 Baht per night). The hotels in Chiang Mai have something for everyone.
Chiang Mai Hotels
If you are looking for 5-star luxury then check out Luxurious Chiang Mai's hotel chapter, but for those who are looking to explore the surroundings in more detail then these 18 properties are some of the most unique Chiang Mai hotels the province has to offer!
North of Chiang Mai
To the North of Chiang Mai city lies the busy Mae Rim, the relaxed Chiang Dao and a part of the Samoeng loop offering elephants and dense jungle landscape.
The Grand Morrocc
The 36 rooms at The Grand Morrocc transport guests to another country. Say goodbye to Thailand and say hello to the vibrant colours and the intricate architecture associated with Morroco. A 20 minute drive from Chiang Mai, The Grand Morrocc is located at the start of the Samoeng loop and a great hotel to spend a weekend away. Rooms are bright, tasteful and comfortable, and the lengthy swimming pool is waiting to be swam in.
www.grandmorocc.com or book via Agoda
Proud Phu Fah
Also in the Mae Rim valley, Proud Phu Fah is a charming nature resort with a range of villas dotted among nature. Each villa is unique and features the art of local Chiang Mai artists. The rooms are adorable with four poster beds, spacious outdoor decks and nature creeping up to the exterior walls. Grab your best friend and a few good books and head to Proud Phu Fah for a weekend away in nature.
www.proudphufah.com or book via Agoda
Howies Homestay
To experience the most luxurious homestay in Thailand, head north to Howie's Homestay. A custom built, four bedroom Lanna style villa complete with breathtaking views from the strategically placed swimming pool. Complete privacy is guaranteed at Howie's Homestay, since your party rents the whole property. Prices start at 35,000 Baht per night for 2 guests, which includes full board (and a feast of delicious meals cooked by Howie's wife) airport pickup and departure, and an in-residence fully stocked mini bar.
www.howieshomestay.com or book via Agoda
Rabeang Pasak Treehouse Resort
Less than an hours drive from Chiang Mai, and close to the sticky waterfall, is the family built and owned Rabeang Pasak Treehouse Resort. Artfully clinging to some giant teakwood trees are 8 genuine treehouses letting guests sleep up in the trees, and closer to the stars. The resort is the creation of Mr. Lee Suwannachin, a retired architect and nature over, and he can recommend nature walks in the area to see some of Thailand's diverse wildlife and colourful insects. The resort started as their family vacation home, but in 2012 they opened to the public, and in high season it's full every night. Book in advance!
www.chiangmaitreehouse.com or book via Agoda
Mae Ngat Dam
One of the best experiences in northern Thailand is taking a rickety Thai motorboat across a lake surrounded by green hills of Sri Lanna national park, and then arriving at floating houseboats. Not only are you away from cars, traffic, pollution and busy city life, but you are also surrounded by water which means you can jump out of bed and into the lake! The most luxurious option is Mountain Float – an elegantly crafted, private resort that offers water toys, a trampoline and a sailboat, a floating restaurant and amazing views over the lake.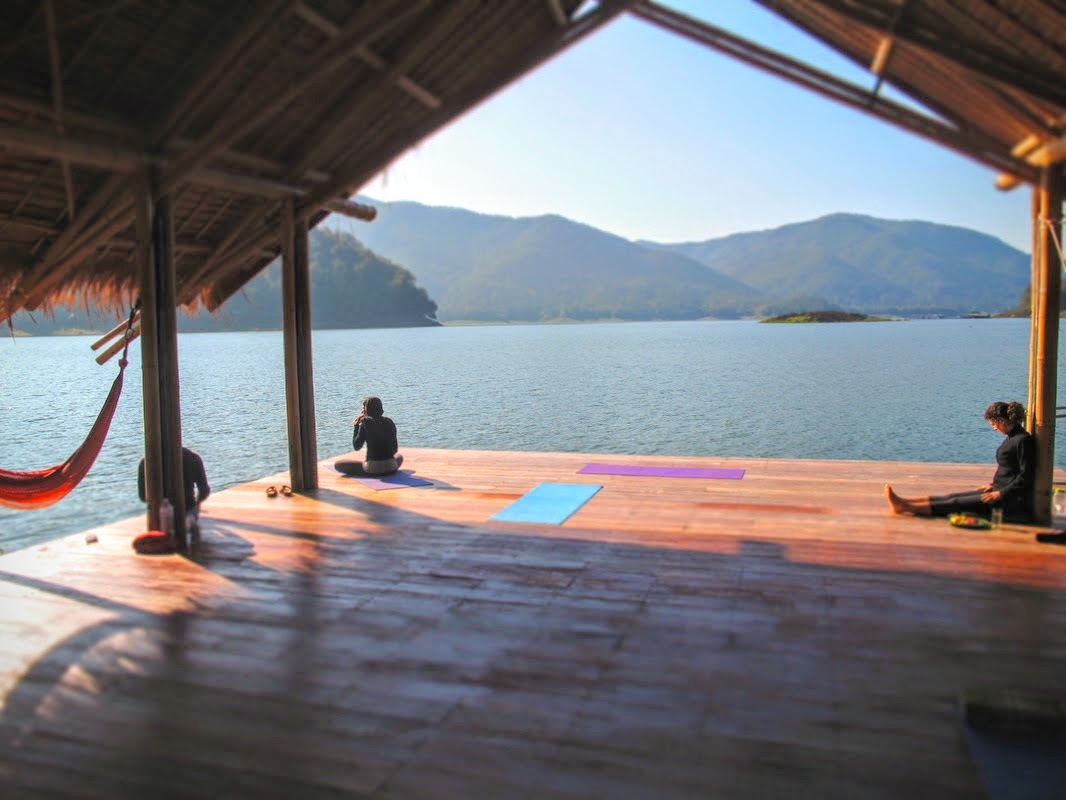 If you want complete privacy, then consider visiting Om Waters. A floating yoga studio at the end of the lake, you can choose to self cater and be completely alone. The space can be rented for private events (birthdays, honeymoons, weekends away) and has an amazing yoga deck for dancing, yoga (obviously) or relaxing with friends. You can also rent Om Waters via airbnb (click here to get $30 of free airbnb credit). It's a magical place to visit with friends!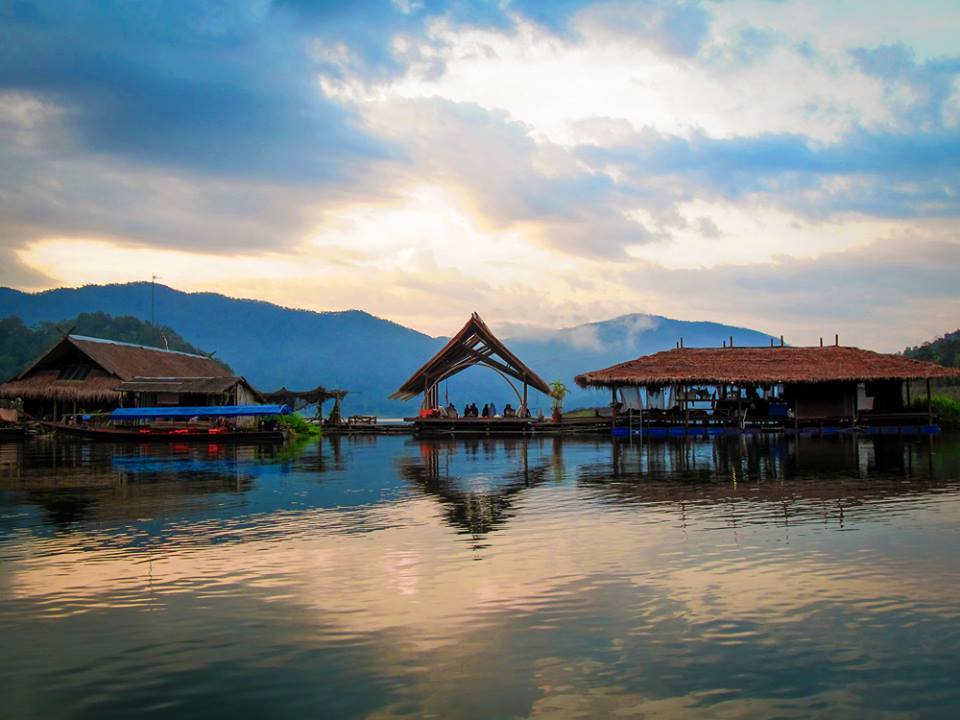 Chiang Dao Nest
The Nest is everyone's prefered choice when it comes to staying in Chiang Dao. They are always popular, to the point that accomodation can only be booked on their website. With two resorts full of quaint bungalows, fresh air, cooler temperatures and some of the finest food to be found in Chiang Mai province, The Nest is always a good idea when it comes to a getaway!
Azalea village
Elegance, simplicity and some impressive views of Chiang Dao mountain, Azalea village is a luxury boutique property masquerading as a 3 star resort. A hidden gem with cute little cottages and a relaxing pool, the Azalea spa is on the way and something to look out for in the future.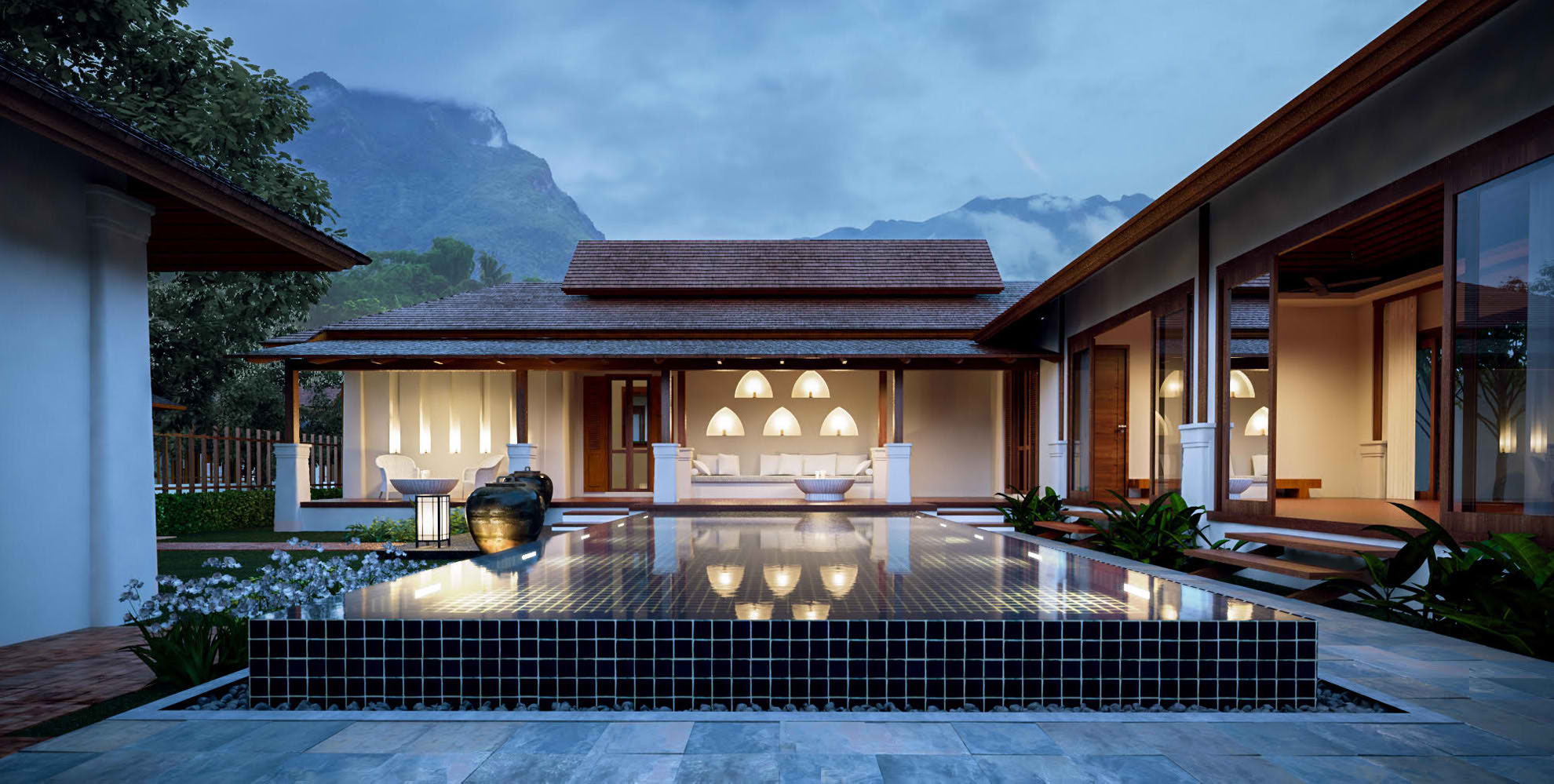 www.azalea-village.com or book via Agoda
Azaya Villas
If you are looking for a weekend of luxury with panoramic mountain views, a zen garden and private swimming pool then look no further than Azaya Villa. Close to the Four Seasons in Mae Rim, the villa sleeps up to 6 people and offers fully serviced rentals (including in-villa massage treatments and poolside BBQ's). Check their website for low season discounts – not the cheapest option but a weekend to remember with friends.
www.azayavillas.com/rent or book via Agoda
Sukantara Resort
Northwest of Chiang Mai and near Mae Rim is the long standing Sukantara Resort. Their claim to fame is that Angelina Jolie stayed there (on her way to visit the Karen refugee camps near Mae Hong Son), and although these days it probably isn't fit for movie stars, it is still a cool place to explore. The resort is built around a cascading waterfall, and since the place is far from the city it is rarely busy so makes you feel like you have successfully found some place off the beaten track of touristic Thailand. Some of the rooms feature jacuzzi and waterfall views, as does the spa, making for a very relaxing massage in nature. To add to the eccentricity there are peacocks wandering around, including an albino one!
http://www.sukantara.com/en/ or via Agoda
South of Chiang Mai
Sheik Istana Hotel
Another hotel with a Moroccan design, the Sheik Istana Hotel neighbours the Ping River and is a 10 minute drive south of the old city. Set in a peaceful area the spacious rooms range in design, but the real beauty is in the outdoor courtyard and accompanying gardens.
Kaomai Lanna Resort
Refurbished tobacco curing barns set in a large tropical garden make up the Kaomai Lanna Resort and Kaomai Estate, which dates back to 1955. Beautiful ivy covered barns with unique decoration await those looking for a great place to take photos and get out of Chiang Mai city for a few days.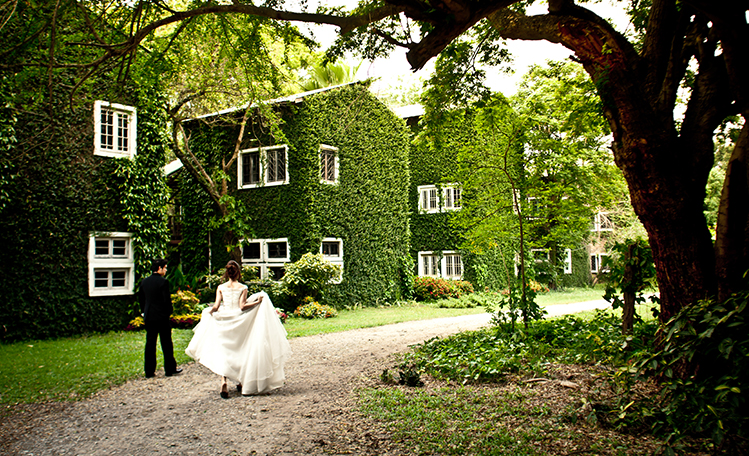 www.kaomailanna.com or book with Agoda discounts
Marndadee Heritage River Village
A beautiful resort 30 minutes south of the city, Marndadee Heritage River Village offers guests a taste of Thailand with mountain views, an infinity pool overlooking the river and traditionally styled rooms overlooking rice fields. They pride themselves to offer a slower pace of life combined with rooms filled with unique antiques and one of a kind colonial furniture.

www.marndadeeresort.com or try our Agoda discounts
Chiang Mai Luxury Villa
The name says it all. Chiang Mai Luxury Villa offers two villas for rent: Baan Ta Chang is a private pool villa surrounded by manicured gardens, and can  accommodate up to 10 people. The Spa villa (aka Baan Spa) has five bedrooms, a smaller pool, open living room and impressive outdoor bathrooms. Close to the Ping River and about 20 minutes south of Chiang Mai city, Chiang Mai Luxury Villas are great group getaways!
chiangmailuxuryvilla.com or try our Agoda discounts
East of Chiang Mai
Mala Dhara Eco Resort
Stunning views of the Doi Saket mountains and rice fields from the breakfast table, a saltwater swimming pool, herbal steam pod, organic farm and some of the quirkiest adobe rooms in northern Thailand, Mala Dhara is a resort not to miss! If you are a Lord of the Rings fan then book the Hobbit House, for luxury lovers try out the Raindrop or Dhara villa, and if you are looking for privacy try the Jai Dee villa.Every aspect of Mala Dhara Eco Resort was designed by master yogi Ploy, and all her hard work and attention to detail has created an amazing resort less than 30 minutes away from Chiang Mai. One of my personal favourites on this list!  
maladhara.com or check Agoda for discounts
The Giant – Tree house and cafe
An amazing cafe in a tree, The Giant also has 5 guest rooms underneath the cafe offering jungle views (usually with misty mornings). Rooms start at 3,500 per night and include dinner and breakfast. Transportation, massages, trekking and a small local zipine are additional activities for guests. Call The Giant on 086 7762946 or book via their facebook page.
Rice & Zen boutique Resort
Two acres of a zen style garden area surrounds the two unique guest properties: A teak and a bamboo villa. The Rice & Zen Resort in Doi Saket offers landscaped gardens, a small waterfall and a scenic swimming pool. They pride themselves on health and wellness so visit and do some yoga, massage or hit the small but well equipped gym.
www.riceandzen.com or book via Agoda
West of Chiang Mai
Pai
Technically Mae Hong Son Province, the small town of Pai lies 3 hours west of Chiang Mai in the mountains. Getting there is not for the fainthearted as the road is very windy, but its worth it for the laid back atmosphere, great food and drink and direct access to nature. There are no 5 star resorts in Pai but worth a mention are Hotel des Artists Rose of Pai for its riverside location, the Montis Resort (because of its unique building style making you feel like you've left Thailand and are on safari in Africa) or the Oia Pai Resort a funky hotel filled with canoes, hammocks and swinging chairs overlooking their man-made saltwater lake.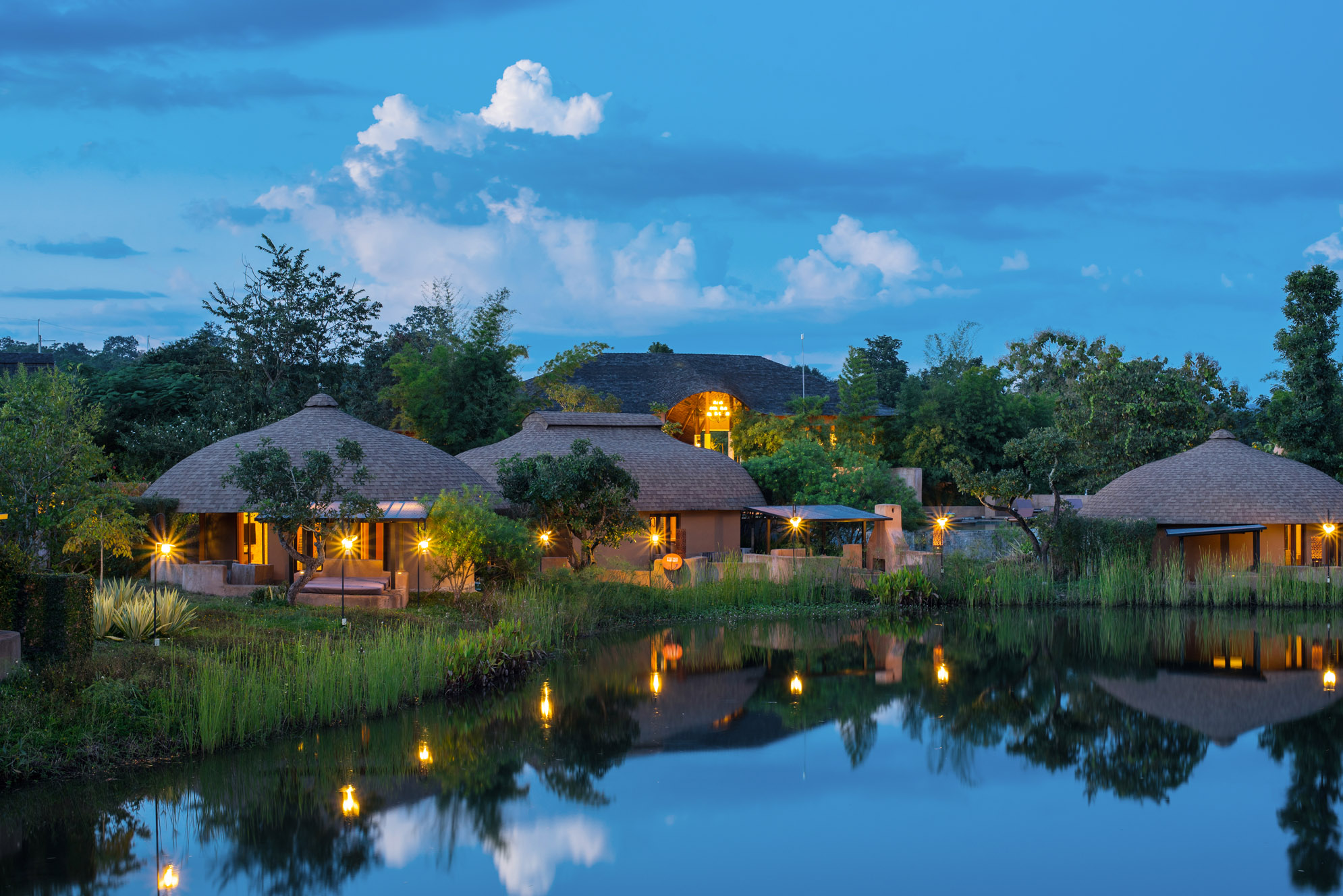 The Heritage House & Garden
If you are looking for somewhere closer to Chiang Mai (and still in the province) then head to The Heritage HG and get transported to the rose gardens of England. The manor house has plush, cozy rooms and the cottages are great for families or groups of friends looking to hang out in a different 'country'. The Heritage is also a great place for wedding and pre-wedding photography in Chiang Mai.

www.theheritagehg.com or try our Agoda discount
These 18 places are just a taster of amazing Chiang Mai hotels, and there are countless more luxury, boutique and unique hotels and resorts still to be discovered. Follow Luxury Chiang Mai on facebook or bookmark us to hear about more amazing Chiang Mai hotels and adventures to be had in Northern Thailand.