Where to stay in Chiang Mai? – Your Home Away from Home
Many people who visit Chiang Mai find that they love the city and keep coming back. It's a great place to base yourself from when exploring Asia, thanks to cheap flights and great connections with Bangkok. It's the perfect place to work remotely, take a sabbatical or finally write that book (like I did). You can spend time volunteering for a charity, or simply relax and decide on the next steps in life – the possibilities are endless. With a slow pace of life, lots of activities, places to explore, nature and fine dining, it is a great place to base yourself and live a wonderful life. But where to stay in Chiang Mai?
Firstly, it's a wise idea to choose based on area. Paper Planes blog offers a good run down on the different areas of Chiang Mai to stay in, but ultimately it's good to explore the areas as well as visit a few different condominiums before you make any decisions. 
While there are many simple, budget condos in the city, some people want to live in the best that money can buy. If you are used to paying 800 -1,000 US Dollars or Pounds a month, then instead of downgrading your accommodation, instead why not upgrade your lifestyle by maintaining your spending and dramatically improving your surroundings. You'll still end up saving money in Chiang Mai, but there's no need to penny pinch when the quality of life is so good here. For the same amount you pay in London for a small apartment, you could get a luxury residence at the Four Seasons instead!
So where to stay in Chiang Mai?
If you are looking to upgrade your life, or your condo in Chiang Mai, here are the best places in town for you:
Located down town, next to the Shangri La hotel, The Astra is an impressive complex, boasting two 17 storey buildings. Together there are over 500 one, two and three bedroom units, and a number of duplex penthouses overlooking the manicured gardens. The astounding and welcoming complex has an infinity swimming pool on the roof and a clubhouse with state of the art fitness facilities. It's a short walk to Chiang Mai's famous Night Bazaar and easy to access all areas of the city. Prices begin at 16,000 THB per month, or close to 5,000,000 THB to buy.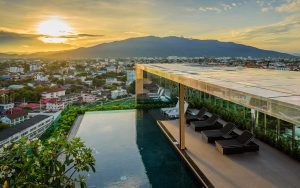 Two to four bedroom secluded residences set amongst picturesque rice paddies, with mountain views and some of the coolest temperatures in Chiang Mai province. A 20-30 minute drive from Chiang Mai, The Four Seasons Residences are the pinnacle of luxury living in Northern Thailand. They are the perfect place for a retreat, longer stay holiday, or even a vacation home, as they are available to buy as well as rent. Select residences feature private pools and Thai pavillions, and come as villas or condominioms. All residences are within walking distance from the Four Seasons Resort next door. Prices start at 14,000 – 180,000 THB per night, or can be rented monthly, yearly, or even purchased. See the Four Seasons Resorts website for more information.
The small, but truly stunning Himma residence is a new addition to Chiang Mai. The high-end furnished condominiums are based on principles of Buddhist cosmology –  using the concept of (top quality) 'wood, stone, and light'. Set conveniently behind the Lanna Golf Course, prices range from 16,000 – 60,000 THB per month.
Conveniently set  back from Nimmanhaemin Road, close to cafes, nightlife and galleries but away from the hustle and bustle, Nimmana offers stylish modern one and two bedroom apartments with mountain views, and fully equipped with desired amenities. Prices start at 20,000 (1 bedroom) – 45,000 THB (2 bedroom) THB per month. The complex also has a fitness centre, luxurious swimming pool and quaint English garden.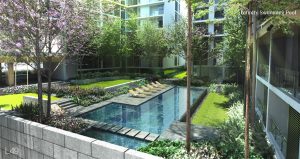 "I was so impressed with my stay at this beautiful apartments I stayed for 2 years. The location is perfect just on the outskirts of the city nestled at the bottom of the mountains so the rooms have stunning views." TripAdvisor, May 2017
Sang Serene House is a beautiful, well cared for property, not far from Mountain Front and Touch Hill Place. With rents between 10,000 – 24,000 THB per month, the modern Lanna style resort is great value for money, and offers a peaceful escape from the city. A range of serviced studio apartments are available to suit individuals, couples and small families, and the most impressive apartments offer perfect mountain views.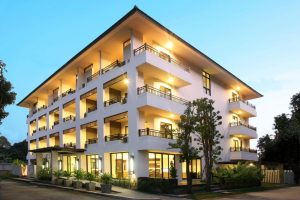 The Sanctum offers impressive ultra modern villas in the south of the city, just a 20 minute drive from Chiang Mai. The villas are located at the start of the Samoeng loop – a great motorbiking or cycling road. Each villa has been eco-designed with its own salt-water infinity pool and Italian stone kitchen. Perfect for a retreat or investment opportunity. Contact them for rental or purchase options at [email protected]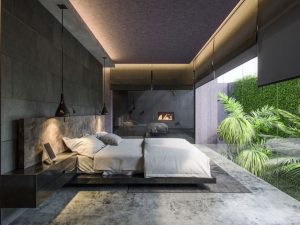 The Siri is located on soi 1 of Sirimankalajarn Road, close to Kad Suan Kaew. It's a fully equipped, centrally located condominium that is often full during high season. Average rent is 25,000 THB per month, but the one or two bedroom condo units come complete with washing machine and kitchen facilities, swimming pool, fitness room and mountain views. 
Located along Canal Road, a little south of the university and in the foothills of Doi Suthep, the Star Hill Resort offers a range of spacious ultra-modern studios, deluxe two bedrooms, and family apartments. Their motto is 'The spectacular Living' which fits with the views from the units facing the mountain. Rates start at 1,300 THB per night, but monthly rentals are also available.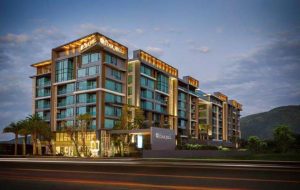 Meaning 'the town' in Northern Thai, The Punna is a popular option among long term expats looking for quality. The private yet friendly set of residences offers views over Chiang Mai's hip Nimmanheamin area. A range of condo units are available, starting at 20,000 THB per month. A main features are the refreshing salt water swimming pool and the proximity to Nimmanhaemin Road.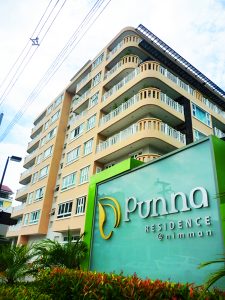 Located down by Chiang Mai's famous Ping River, the Sakorn Residence offers a variety of long stay serviced hotel rooms from 16,000 – 28,000 THB per month – good for those who wish to live in a hotel environment.
Flora condo
Chiang Mai's tallest condominium complex, The Flora condo towers over the east of the city and guarantees great mountain views. The Flora has a variety of accommodation options, including a 3 bedroom, 3 bathroom penthouse condo with panoramic views of the city and at an affordable 55,000 THB per month.
Located in the heart of Chiang Mai on Chang Klan Road, The Shine has 11 different types of rooms to choose from, ranging from Superior Units (30 sqm), to the Presidential Suites (200 sqm). Facilities include a swimming pool, fitness centre, a sauna and sky garden. Prices start at 15,000 THB per month and penthouse offers the most stunning views from the bedroom.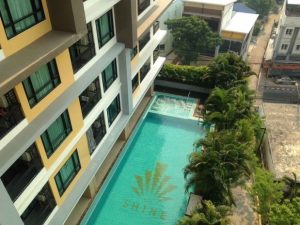 In the heart of Chiang Mai's old city, the Frangapani Serviced Residences are a small oasis with only 9 apartments available. The beautiful, spacious residences are a pleasing blend of Lanna and modern style and have been decorated for maximum comfort. The rates range from 37,000 (1 bedroom) to 57,000  (3 bedrooms) THB per month, and are often booked well in advance.
Dcondo condominium complex is made up of three eight-story residential buildings designed in a neo-classical style. Set around a large green space, the affordable studio rooms are fully furnished with a flat screen TV. Prices begin at only 9,000THB per month and are conveniently located close to Chiang Mai University and Nimmanhaemin Road.
Sansiri is a major Thai developer and has also built D Sign and D Nim. Both condominiums have sold out but are available for rent by individual owners. If you are thinking about purchasing property in Thailand then Sansiri developments are a good bet for cheaper condos.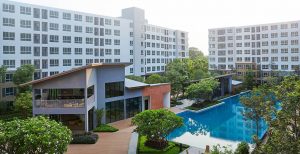 Centrally located, down a quiet street, Sky Breeze Condo offers one to three bedroom privately owned units. Sky Breeze is popular amongst expats, and some of the condo units have been exquisitely decked out by the owners. The condominium has a saltwater pool, and uninterrupted views of Doi Suthep temple. Prices for condo units begin at merely 10,000 THB per month.
Serene Lake is a large gated community by the bottom of the airport, between Chiang Mai and Hang Dong districts. The beautiful complex offers a series of chic houses and a few condominium blocks with amazing views. All the accommodation is set around a large lake with sailing capabilities and within 15 minutes you can drive to Nimmanhaemin, the airport or the old city. There are state of the art gym facilities, with discounts for Serene Lake residents, and the entrance to Serene Lake is one of the most impressive in the city.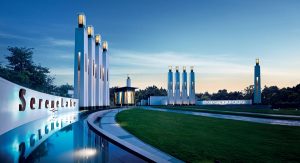 Hidden off Suthep Road, Hyde Park Residence consists of 44 luxurious rooms, in 8 different styles. Prices begin at 2,300 THB per night and monthly rates can be negotiated. The Residence has an onsite cafe, small pool, gym and even offers a regular shuttle bus to Nimmanhaemin Road for residents.
My personal favourite accommodation in Chiang Mai (and the two bedroom duplex that I will buy after I sell enough copies of Luxurious Chiang Mai) is the boutique Peaks Condominium. The impressive 28 units range from one bedroom apartments to unique, spacious split level lofts on two floors; and everything in between. Each room features hardwood white brushed oak flooring, and high end fittings and furnishings. Room rates are between 35,000 – 120,000 THB per month, and prices include cleaning two times a week, access to fitness facilities and an infinity pool with a jacuzzi.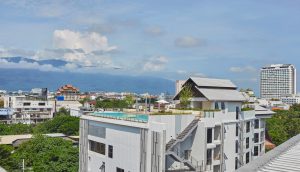 The Unique has four different locations for its condominiums, two of Nimmanhaemin Road, one on the outer north side of the moat and one in Faham. Prices range from 20,000THB – 45,000THB per month and offer swimming pools, steam rooms and fitness facilities.
"Mountain Front is a very luxurious condo, in a top location with quiet surroundings"
Located in the foothills of Chiang Mai's Doi Suthep mountain, and near Chiang Mai University, Mountain Front Condominium is surrounded by woodland and just 10 minutes from Maya shopping mall. One, two and three bedroom condos are available. Every unit boasts a large private balcony with mountain view and a bathroom with walk in dressing room. There is parking and access to the tropical gardens, a 20m swimming pool, gym, sauna, and onsite poolside cafe. Prices range from approximately 15,000 – 45,000 per month depending on the unit size and length of contract.
the same developer also has Mountain View Condominium, a neighbouring apartment block, with the same level of luxury as Mountain front. While their websites don't seem complete, both Mountain Front and Mountain View are available for rent or purchase already, with rents starting around 20,000 THB per month.
Where to Stay in Chiang Mai?
If you want to stay in the best accommodation money can buy then consider one of these options. Most of the 5 star hotels (and 4 star) can arrange long stay rooms if you prefer staying in a hotel, but many of the readers are making a home in Chiang Mai and so want to decorate their abode themselves. For many of the condominiums and residences above, it's easier to go through a real estate agency, or go to the condominium directly. Calling or emailing often leads to confusion and frustration in Chiang Mai. Perfect Homes is a great agent with an impeccable reputation. They can help you find your dream rental property:
www.perfecthomes.co.th (they also have a 'Luxury condo for rent' section)
P.S. I've heard there is a new property development called Richy Rich land. If you hear anything about it please comment below….I'm sure many of us would love to live there!