Possibly the most magnificent and grand hotel in Chiang Mai, if not in Thailand, The Dhara Dhevi Chiang Mai hotel spans over 60 acres of rice paddies and manicured gardens, and offers one the most luxurious spas you could imagine! The Dhara Dhevi Chiang Mai is for than a hotel, its an ancient city filled with antiques to create a 'living museum'!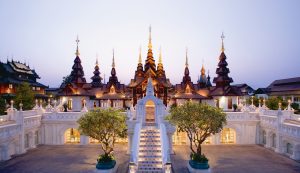 Entering The Dhara Dhevi Chiang Mai (formerly the Mandarin Oriental Chiang Mai) feels like you are entering a Thai temple due to the size and design. Travel + Leisure magazine described it as "a miniature Thai kingdom". The hotel has so much to offer that guests don't even need to leave! From a wellness centre offering herbal treatments, yoga regimens, and an ayurvedic therapy program to four different restaurants, tennis courts, a breakfast cafe, cooking classes, traditional Thai dance classes and even high tea! The Dhara Dhevi Chiang Mai features both a lounging pool and a more spacious pool suitable to swimming, you can do laps while overlooking rice paddies and the colonial gardens, or soak up the beautiful architecture on a hot day.
Room prices start at 30,000 Baht (around $1,000) but if you are looking to splurge, you will be greatly rewarded! The Colonial suite at The Dhara Dhevi Chiang Mai boasts an elegant Victorian style rooms with a living room and a sun deck, while the deluxe teak wood villas are designed in a traditional Thai style with two floors, a Jacuzzi bathtub and indoor and outdoor showers. With only 123 rooms, The Dhara Dhevi Chiang Mai is the perfect place to hold a wedding ceremony, party or event. They even have a 'town square' to hold concerts and intimate receptions.
Featured in Luxurious Chiang Mai, The Dhara Dhevi Chiang Mai is a must visit for anyone who loves luxury, or amazing architecture. In a way it rivals Angkor Wat, and I feel lucky to have had a grand tour of this miniature luxurious Kingdom.
Address: Dhara Dhevi Chiang Mai, 51/4 Chiang Mai-Sankampaeng Road, Moo 1, T. sala, 50000 Chiang Mai
Email: [email protected]
Tel: (+66) 053 888 888
To read about more great hotels, check out Luxurious Chiang Mai, the luxury guide book to the best of Chiang Mai.